Inge's Story
With this astonishing news Inge passed out. Of course, she was also weak from hunger, and suffering from typhus . Someone must have carried Inge into the sick barracks and informed her mother of her return. When Inge was finally able to get out of quarantine her mother could hardly recognize her. She was 16 years old and weighed only a little more than 60 pounds.
At the time of liberation , Inge was still very sick and weak, with a high fever, but her mother was anxious to return home. They traveled back to Cologne by bus, and there they discovered that they were one of the few Jewish families whose members all survived the war. As the younger people started returning to their homes without their parents, Mr. and Mrs. Goldschmidt soon became adoptive parents to those who were orphaned.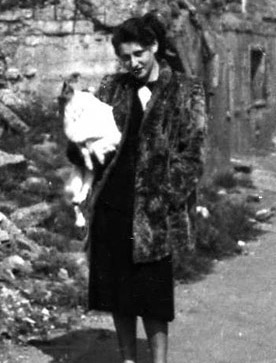 Upon the conclusion of the war, Inge's family remained in Cologne. They received packages and letters from Guenther, and eventually he was successful in filing the necessary paperwork to bring his parents to the United States.
In Cologne, Inge worked for HIAS (Hebrew Immigrant Aid Society) refugee organization, which helped many of the survivors rebuild their lives. Inge actually wanted to immigrate to Israel , but her parents would never have been able to join her there because the rugged country wasn't a good place for her disabled father. Instead, Inge decided to join her family in the U.S., arriving a few weeks after her parents in 1949.

TESTIMONY: "REUNION WITH GUENTHER"
"They were sending him to a strange country, into a strange home."
—Inge Goldschmidt
Inge immediately started working to earn a living in New York, and so she wasn't able to continue her education. Then she met and married her husband, who was also a survivor of the Holocaust, and they had two children together. Finally, when her children were both in school, she was able to go back to school herself. She graduated in 1972 and became a teacher and librarian.

TESTIMONY: "MY REVENGE"
"Hitler wanted to destroy us."
—Inge Goldschmidt